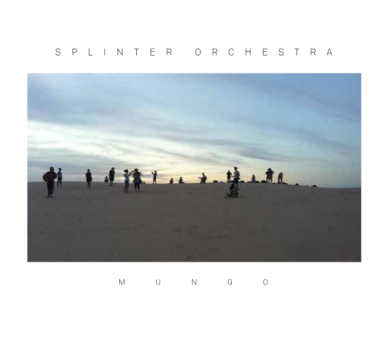 Splinter Orchestra is a radical large-scale improvising collective that has been active in and around Sydney for two decades. The group's focus and activities have developed over the years to a current practice that includes interaction with natural environments, and playing in remote locations.
The "Mungo" 3CD set documents three days the collective spent in Mungo National Park in outback NSW in 2016. This sprawling album "presents an argument for a creative collective, sensitive to time/space — one that treats all the participants, be they performers, other species, or the wind, as equal players".
The Melbourne performance collective THIS Ensemble is something of a distant cousin to Splinter Orchestra. Led by Ren Walters, THIS Ensemble was a large-form, multi-disciplinary improvising mass, well-documented in their "Brown Paper Business" 2CD box set. THIS Ensemble also often ventured into rural and remote locations for creative interactions. A subset of the Ensemble in Ren Walters, Clinton Green & Michael McNab camped and played at the Pink Lakes, Murray Sunset National Park in 2015, part of which is documented on their "At The Salt Museum" CD.
These selections paint a picture of collective and contemporary approaches to sounding landscapes.
Use the code SPLINTERTHIS for 10% off all Splinter Orchestra and THIS Ensemble-related releases, as well as "At The Salt Museum" (expires 4 July 2022).
As always, free postage for orders within Australia over $100.