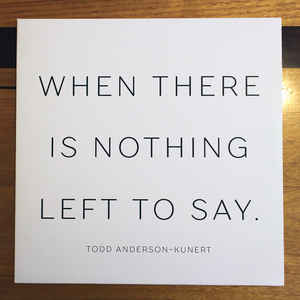 Todd Anderson-Kunert is a sound artist in a very literal sense, in that his work has the sense that he deals directly with sound. His music is constructed by great slabs of tone and timbre, alternately piled methodically on top of each other, or arranged in vast sonic fields like standing stones or Nazca Lines; the components seem relatively simple and unadorned on their own, but the overall combination of the parts creates a momentous impact.
The "When There Is Nothing Left To Say" LP stands out for me amongst Anderson-Kunert's work, in that it goes beyond his already-impressive aesthetic achievements with his music by packing an emotional punch somehow through the subtle use of deep bass tones. This is minimal industrial music constructed with a great care that belies its monumental form.
Most of Anderson-Kunert's in-print music is available through Shame File Music on a variety of formats, including vinyl, cassette, CD and digital. Also available is my "In Situ" CDR, a remix/repurposing of an earlier vinyl release of Todd's
Use the code TODD for 10% off all Anderson-Kunert releases (expires 5 July 2022).
As always, free postage for orders within Australia over $100.