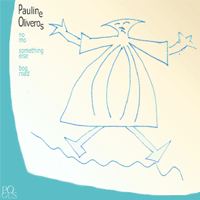 Pauline Oliveros was an American composer and performer whose impact on contemporary music. and listening practice in particular, is immeasurable. From the mid-1960s until her death in 2016, Oliveros was involved in early electronic and tape music experiments, just intonation, and the development of Deep Listening as an approach to both the playing and experience of music.
Shame File Music stocks range of her back catalogue, including solo releases and collaborative works with the likes of Joe McPhee, her Deep Listening Band and The Carrier Band amongst others. It is hard to go past "No Mo", her astonishing mid-1960s electronic/noise/tape works. The two pieces featured here were recorded in 1966 (at the University of Toronto Electronic Music Studio, and the San Francisco Tape Music Center respectively) using a range of noise and tone generators, tape techniques and a Buchla Series 100 Box. As well as these timeless noise ecologies, her "Tara's Room: two meditations on transition and change", with just-intonated accordion and electronics, has been a particular comfort over recent turbulent years. Both are highly recommended.
Use the code OLIVEROS for 10% off all Oliveros-related releases (expires 8 July 2022).
As always, free postage for orders within Australia over $100.