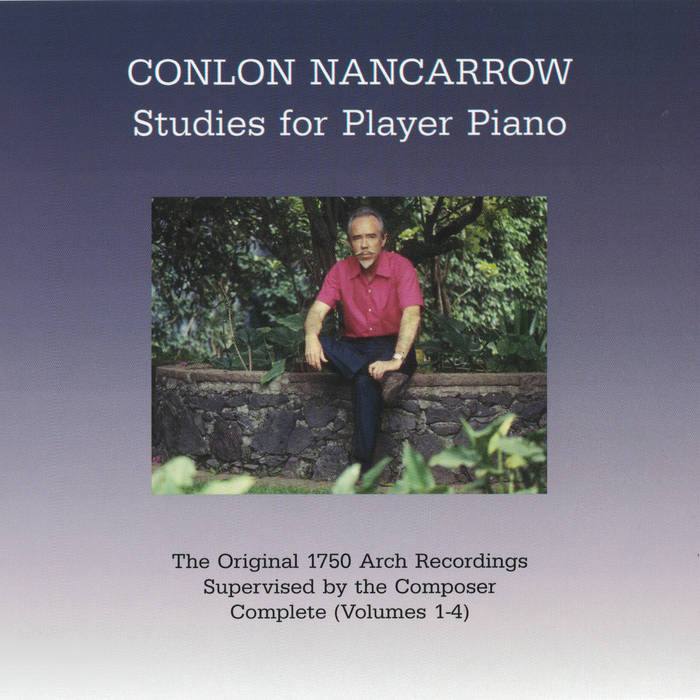 American-born composer Conlon Nancarrow spent most of his career working in isoloation in Mexico composing for player pianos (pianolas). His works attempted to go beyond the limits of human performance in pre-electronic music era by using these automated instruments that he adapated over a long period of time. The results are astounding and unique works I'm pretty sure are unlike anything else.
The definitive recording of these works are collected in the "Studies For Player Piano" 4CD set. Originally released on LP by 1750 Arch Records, newly remastered in spectacular sound, it represents the most faithful reproduction of what Conlon Nancarrow heard in his own studio. This is the only available recording utilizing Nancarrow's original instruments: two 1927 Ampico player pianos, one with metal-covered felt hammers and the other with leather strips on the hammers. Enclosed 52- page booklet contains the original liner notes by James Tenney, an essay by producer Charles Amirkhanian, and 24 illustrations. The studies are presented in their original order, selected by the composer. Essential listening for anyone interested in 20th century music.
Use the code NANCARROW for 10% off Conlon Nancarrow releases (expires 21 June 2022).
As always, free postage for orders within Australia over $100.