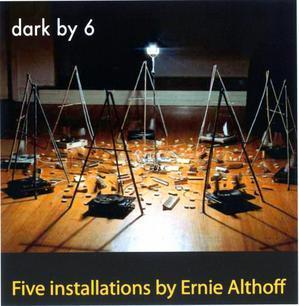 Ernie Althoff is a Melbourne sound artist and instrument maker active in Australian experimental music since the late 1970s. He is unique not only for the original textures and sonic elements he creates, often tempered with wry humour, but also for his practically continuous contribution to and participation in the Melbourne experimental music community for over three decades.
Althoff's recorded documentation is extensive, and Shame File Music makes available all currently in-print titles plus a range of digital offerings. It's an impossible task to choose a key work, but I regularly come back to the 2005 "Dark By 6" CD, which documents five of Althoff's early 2000s installations. These works are sprawling both spatially and musically, incorporating chance operations as overlapping rhythms through his trade mark kinetic sound sculptures, often driven by turntables and cassette players. I love to listen to these recordings and identify particular objects by their sound; for instance, the bell-like aluminium bowls on "The Emergence of Mammals", which Ernie gifted to me a number of years ago, whose tones I know very well.
Shame File Music also hosts an archive of Althoff's early cassette releases, as well as his most recent work "Symmetry Marred By Impulse"
Use the code ERNIE for 10% off all Ernie Althoff releases (expires 24 June 2022).
As always, free postage for orders within Australia over $100.