The Scroungers
Bored, Pissed and Agro: 1991 – 1997
Compiled by Clinton Green, 2008-9
Shame File Music 2009
(sham053)
1. I Hate Your Guts (from Eunuch/Scroungers split cassette)
2. Making Punk A Joke Again (from Feel The Boredom cassette)
3. Bored, Pissed and Agro (from Your Taxes At Play cassette)
4. C'mon Everybody Let's Brood (from One Big Whinge cassette)
5. I'm Normal/Fuck Politics, Let's Riot/Stop Laughing Comrade (from Jeff Kennett Fucks Sheep cassette)
6. More Bollocks (from Eunuch/Scroungers split cassette)
7. Can't Complain (from Void Your Bowels cassette)
8. Descent Into Patheticism (from Void Your Bowels cassette)
9. Don't You Think That's Being A Bit Cynical? (from Void Your Bowels cassette)
10. Let's Hear it for Terrorism! (originally titled "Fuck Everything", from an unknown compilation cassette)
11. Ruxton for PM (fromBorn To Bludge cassette)
12. Um… (from One Big Whinge cassette)
13. Fuck You Up (from Feel The Boredom cassette)
14. Bouganville Rebs (from Feel The Boredom cassette)
15. The Lucky Country (from What A Glorious Country cassette)
16. Proudly Australian Made (from What A Glorious Country cassette)
17. We May Be Bludgers But We'll Never Be Scabs (from Eunuch/Scroungers split cassette)
18. Battle of the Fuckwits (Part One of a Series) (from Feel The Boredom cassette)
19. Only Stupid Bastards Hang Around Brunswick St., Fitzroy (from Live The Apathy cassette)
20. Good Morning Happy Commuters (from What A Glorious Country cassette)
21. Fuck Right Off (from Jeff Kennett Fucks Sheep cassette)
22. Bazza Was A Poofter Basher (from One Big Whinge cassette)
23. … (from Void Your Bowels cassette)
The Scroungers sound like punk was always supposed to, but rarely did; urgent, raw and dripping with sardonic anger. The fact that the Scroungers (a solo home recording project) grew partially out of Macka's growing dissatisfaction the Melbourne punk scene of the early 1990s is somewhat ironic. Working in relative isolation and never performing live, Macka recorded a large body of work that is arguably the rawest, high-octane, politically and socially incisive punk rock the country has ever produced. Yet the Scroungers remain unknown to all but a few.
Bored, Pissed and Agro: 1991-1997 reproduces the best moments from the eleven Scroungers releases (ten cassettes and one split 7″) during these years when the project was active. A number of releases have been issued post-1997 (see discography), but these are largely reissues of material from the original cassette releases, either reproduced as is or remixed/remastered. Bored, Pissed and Agro: 1991-1997concerns itself with this six year period where the Scroungers were active, until Macka declared the project "dead" in 1997. The songs are reproduced here in their original form, complete with distortion and tape hiss, with only minimal mastering.
Andrew McIntosh (AKA Macka) was active in the Melbourne punk scene from the late 1980s, and played in a handful of metal and punk bands around this time, most notably the Silent Lunatics. The band had existed with various line-ups since 1989 before Macka was recruited as a vocalist, later covering bass duties as well. The Silent Lunatics played early 1980s UK style punk, with the occasional ska moment (I remember a ska song called "Australia Goes To the Polls" from a gig at the Arthouse in 1992). It was during this time that Macka acquired a Fostex analogue 4-track and a drum machine, and began recording at home songs that he wasn't able to realise with Silent Lunatics, due to differing musical ideas with the other members. Some of these recordings formed the first Scroungers cassette Your Taxes at Play. Macka's early recorded efforts were extremely raw and immediate ("Bored, Pissed and Agro" demonstrates this best); this resulted from his inexperience with home recording and cheap equipment, along with a deliberate attempt to create extremely primitive and angry music. Macka would refine his recording technique in the coming years (although the availability of equipment would always be a factor in the end product), but the key ingredients of the Scroungers were there from the beginning; ultra distorted guitar, snarling vocals, and lyrics based on local situations/issues.
The recording quality of Scroungers releases over the years varied, mostly due to the availability of equipment; from the quality of the tape deck the recordings were dubbed onto, to whether an amplifier was available or if the guitar was direct-inputted into the 4-track instead. By 1993, Macka had left Silent Lunatics and was withdrawing from a punk scene he saw as increasingly ineffective and hypocritical (particularly in the acceptance of Nazi skinheads by some quarters, which inspired "Making Punk A Joke Again"). In some ways, Macka left the punk scene to work intensively on a pure form of punk, unadulterated by scene politics or personal compromise. Punk has never been just a musical genre, and so bundled in with the Scroungers were a series of values including Do-It-Yourself independence through home-recording and trading, and a distrust of any money changing hands (Scroungers tapes released by Macka were available only for trade of music or other art, or for extremely cheap prices). Particularly during the years 1993 to 1995, Scroungers output was high (six cassettes and one split 7″), with cassettes like Jeff Kennett Fucks Sheep, Eunuch and the Scroungers and Void Your Bowelsdemonstrating Macka's increasing mastery of 4-track recording to produce raw but increasingly competent recordings. Trading these tapes, Macka made contact with punk DIY distributors around the country and overseas. He would also leave boxes of cassettes in local record shops, free for anyone to take.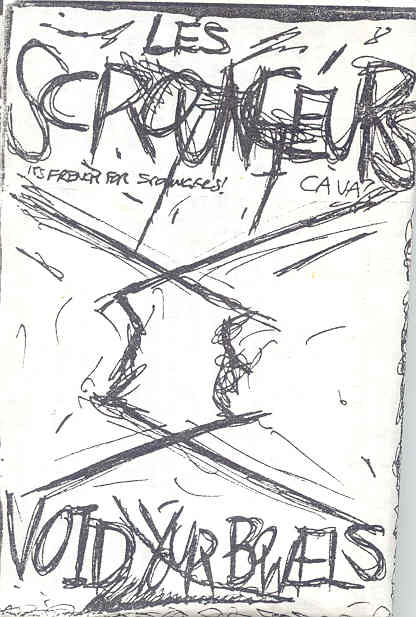 Throughout this intensive period of recording, Macka honed his song writing as well as production skills. His lyrics in particular display distinctive trademarks little seen before in Australian punk music. His commentary on domestic issues, both in the punk scene ("Making Punk A Joke Again") and the mainstream ("Let's Hear It For Terrorism!", "The Lucky Country", "Bouganville Rebs" – the latter perhaps the only instance of punk commentary about mining in the Papua New Guinea), is very articulate and firmly moored in darkly humorous sarcasm. Macka also wrote of his own personal experiences, like economic uncertainty ("Can't Complain") as well as taking the piss out of his own artistic insecurities ("Descent Into Patheticism"). He recalls an outpouring of lyrics during this period, many never used. He'd filled a large notebook with lyrics he was unsatisfied with, which was later burned. Lyrics were of primary importance and only used if he was totally happy with them.
Later period tapes were semi-unofficial releases, given titles but no covers (song titles would be handwritten on makeshift cassette covers by Macka). Their distribution was limited to people he was directly in contact with at the time. Sound quality of these releases is not of the standard of the mid-period releases, largely due to lack of quality equipment and recording environment available, but progression in Macka's song writing is apparent. He had always been able to write a great hook to build a song around, but now he was experimenting with melody (either in the vocals or guitar) over chord progressions ("The Lucky Country", "Only Stupid Bastards Hang Around Brunswick Street, Fitzroy"). Lyrically, the songs were at their most refined. "Good Morning Happy Commuters" intersperses fake FM morning radio banter with observations of the mass depression of peak hour rail commuters, and "Bazza Was a Poofter Basher" sees Macka break new song writing ground for the Scroungers. The final song on the last Scroungers cassette (besides the various posthumous releases), Macka recalls wanting to write "a ballad, in the true sense of the word…a song that tells a story about different characters". "Bazza…" is reminiscent of Rose Tattoo's classic "The Butcher and Fast Eddy" in its hard rock story telling of a street fight, although in the Scroungers world the bad guy is a violent bogan who gets his comeuppance from a cross-dresser.
After 1997's One Big Whinge, Macka declared the Scroungers dead. "Basically, I ran out of ideas for lyrics", Macka explains, as well as losing interest in punk music in general. Instead, he found expressive freedom in power electronics and noise music, and immersed himself in his N.FIOS project. This later developed into the Screwtape project, still active at the time of writing with dozens of releases completed. He continues to be an avid home recorder, not just of noise and experimental music, but also rock and metal-tinged pop under various monikers. A 7″ and CDR reissuing some Scroungers cassette material have appeared since 1997 on Mortville Records, sparking some interest in the Scroungers. With the exception of 2006's George Dread and the Scroungers mp3 release (where Dread wrote all the lyrics and sang most of the vocals) and the Scrounger-esque Shithouse releases of 2007, Macka maintains that the Scroungers are dead and buried.
Discography
Your Taxes At Play cassette (1991) self-released
Jeff Kennett Fucks Sheep cassette (1993) self-released
Born To Bludge cassette (1993) self-released
Rupture Meet The Scroungers 7″ (1993) split with Rupture on Yeah Mate Records (BEER2)
Eunuch and The Scroungers cassette (1994) split with Eunuch on Pagan Tapes (Pagan Tapes 001)
Feel The Boredom cassette (1994) self-released
Live The Apath y cassette (1994) self-released
Crawl Grovel Scrape Beg cassette (1995) self-released
Void Your Bowel s cassette (1995) self-released
What A Glorious Country cassette (1996) self-released
One Big Whinge cassette (1997) self-released
Weak As Piss 7″ (2000) Mortville Records (MORT006) * remixed songs from Jeff Kennett Fucks Sheep
George Dread and The Scroungers mp3 release (2006)
Satan! Satan! Satan! Oi! Oi! Oi! CDR (2004) Mortville Records (MORT015) * compiling Your Taxes At Play, Jeff Kennett Fucks Sheep, Born To Bludge, Eunuch and The Scroungers and Void Your Bowels cassettes
Compilations featuring The Scroungers
*Note that songs by the Scroungers appeared on a number of compilations, the details of many now forgotten or lost. If you can fill in any gaps, please contact Shame File Music
A Land of Sweeping Sound cassette (1995) Shame File Music (sham007). Tracks: "Hells Half Acre/Yellow Union"
Target Minority cassette (1995) Pagan Waste (001) – Track: "Everybody Wants to be a Hardcase".
Last Call For Unity CD (1998) Barcode The World (BCTW006) – Track: "I've Just Got to Get My Shit Together".
Thanks to: Andy (Mortville Records), Les Regression and Chris. Special thanks to Andrew McIntosh for his time and co-operation.