Ad Hoc "Distance" (sham122)
Shame File Music and Albert's Basement present a reissue of Ad Hoc's 1980 release Distance. Ad Hoc (James Clayden, Chris Knowles & David Wadelton, and at times David Brown) were an obscure Melbourne outfit of the late 1970s/early 80s who stood curiously apart of from many of their more-storied contemporaries, but whose haunting ambient instrumentals sound remarkably contemporary four decades later.
Distance, their sole release besides some compilation tracks, has been sourced from the original 4 channel master reel tape, and is now available digitally and on limited edition of 100 replica pro-produced cassettes with risograph cover.
A typed note from our archive states, "The members of AD HOC began working together in April 1978. They are David Brown, James Clayden, Chris Knowles, and David Wadelton."
Ad Hoc grew out of art school friendships. We were all making experimental and uncategorisable work in various media. We'd all attended P.I.T. and taken David Tolley's "sound" unit.
Chris took out a bank loan (for $700!) and acquired an EMS Synthi AKS Suitcase Synthesiser. He locked himself in a room in our Northcote share house for months, learning its many foibles.
James and I picked up cheap guitars from a favourite place of ours – Clemens Music in Russell Street, a charming time-capsule of old-world Melbourne retail.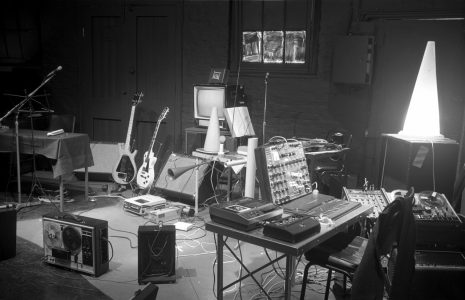 James was a bit older than Chris and I, and already on the scene. He lived in Cardigan Street and had lots of connections in Carlton. Soon after suggesting we work together James quickly arranged a couple of shows at La Mama. He was also able to pull strings and secure the use of a parking garage behind Cafe Paradiso in Lygon Street for us to use on weekends (Melbourne closed down at midday on Saturday).  We set up our rented Fender amps, blasting out an improvised wall of droning, squalling white noise set to 11 that could be heard up and down the street. It was an art performance without an audience, apart from a Sennheiser Dummy Head.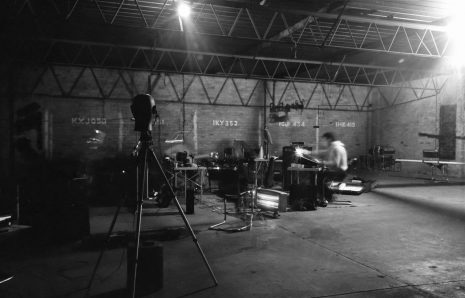 There was a vibrant underground experimental music scene in Melbourne in the late 1970s and early 1980s. Clifton Hill Community Music Centre (run by David Chesworth) became a focus of much activity. We performed there as either Ad Hoc or Signals on many occasions. We were included on the New Music compilation LP on Philip Brophy and David Chesworth's Innocent Records in 1980.
Among other memorable shows, we played in Discurio's basement on a bill called "MET on a Thursday" with Essendon Airport, Laughing Hands and Tsk Tsk Tsk. While the other groups were high profile, we remained on the fringes of the underground. Despite this, we were included in the 1982 Sydney Biennale entitled Vision in Disbelief, as Signals – (when James moved to NSW Dave returned and we became Signals, joined by Philip Thomson on drums).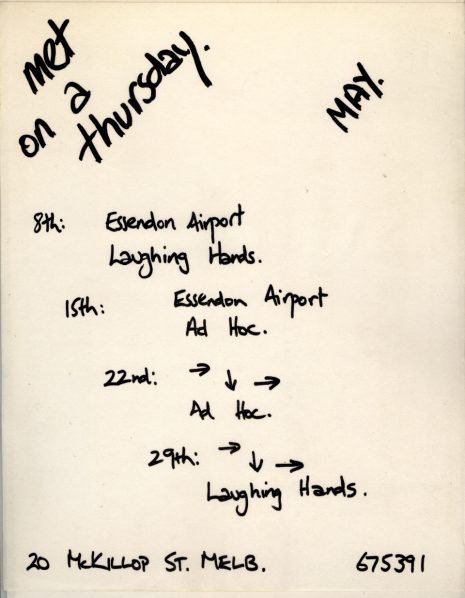 The only venture to the "other side of the Yarra" that I can recall was a show for the bewildered patrons of the Evelyn Hotel in Prahran alongside Essendon Airport and Laughing Hands, during the hotel's Friday Night "Tea Garden" nights.
Melbourne was different then and we were all able to individually rent single-front inner-city terraces while living on little more than the dole. Collectively (and more mellow than previously), we recorded Distance in Chris's place over 1979-80 in the then distinctly un-gentrified Lt. George Street, near Gertrude Street, in Fitzroy.  Chris had his Synth and tape recorder set up in his front room, along with an upright piano.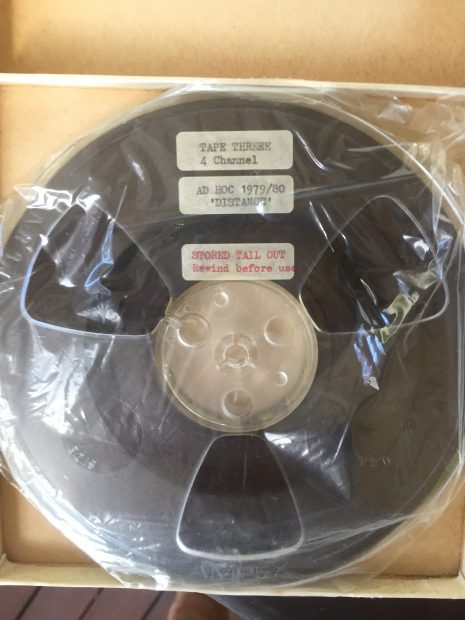 All the recordings arose out of lengthy improvisations that Chris, James and I made. When we could "feel it" one of us would hit the record button. From there it went to a stereo two-track cassette. As there was no track separation the mix was locked-in, along with the room ambience. A typed note from this period states "Where editing is used it has consisted of simply presenting short sections from longer improvisations. No overdubs have been used".
In the spirit of the times, we self-produced and self-released the cassette in a small edition without any expectations, just to get it "out there".
David Wadelton 2022