Jon Rose "rosenberg 3.0: not violin music" (paperback book + CD) A pseudonymous violin arcana compiled by Jon Rose from an extremely diverse array of musicians, fans and eccentrics, all deriving from the activities of the late lamented virtuoso Dr Johannes Rosenberg. A satirical yet thought-provoking cultural critique of music in the 21st century (comes with audio CD of Rosenberg performances from 1981).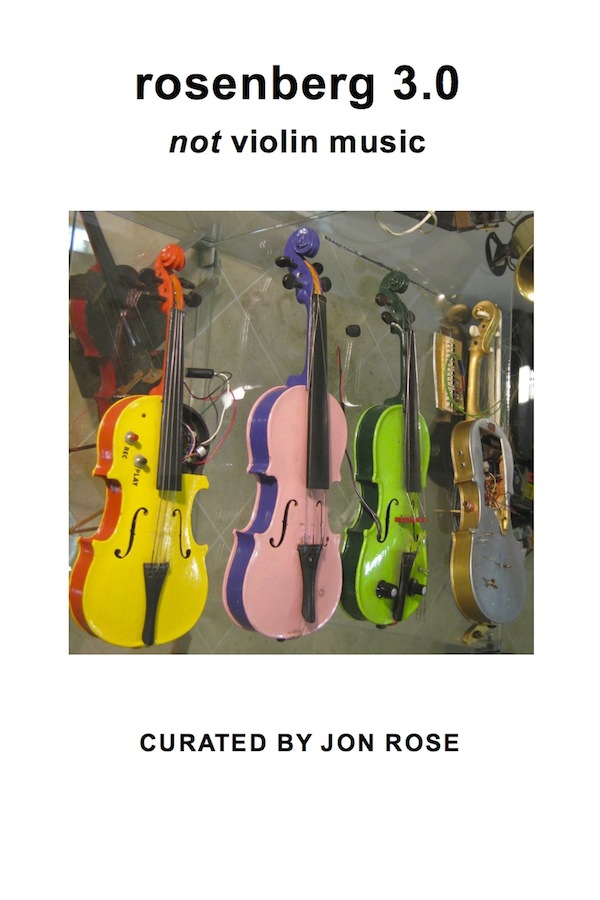 Jon Rose "Rosin" 3CD + data CD This box set documents most of Rose's major projects from the last decade, including multimedia events like "Pannikin", "Talking Back To Media", and "Sphere", as well as his continued questioning of the violin, seeing Rose bowing outback fences, creating bicycle powered violins and interactive bows. Rose is deservedly recognised as one of Australia's premier musical innovators, particularly as a violinist, but this box set (a slightly late celebration of his 60th birthday) showcases his perhaps less-discussed acheivements in engaging experimental music with the whole gamut of Australian society; from isolated rural life to suburban talkback radio, to his use of sport and games as structure and application of historical recordings, Rose's music comments wordlessly upon Australia more than any other musician, and perhaps more than any other contemporary artist.
Rosin comes with a detailed booklet of liner notes and colour photos. The data disc contains video footage of a range of Rose's projects back to the 1970s. The box set is a limited edition of 1000 copies, each containing a bagged sample of used bow hair, hand-numbered and signed by Rose.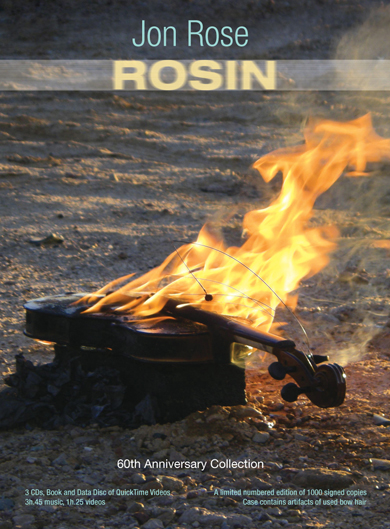 Jon Rose "The Music of Place: reclaiming a practice (Platform Papers no. 35)"(paperback book) - 'How do you maintain live music in a culture that does not value it?' asks Jon Rose, acclaimed improvising violinist and instrument maker. 'The practice of music has lost its key functions and roles in society', he writes. 'The proof of this lies in the steep decline of monetary worth for both practitioner and the art form itself. Music's social worth is also questionable as it is steadily removed from the education curriculum. This is not a uniquely Australian phenomenon, nor is it confined to music practised on the fringes of society; it is a problem common to all music forms.' Rose rejects blaming popular music and digital downloads, delves deeper and proposes a way to change the culture.

Hollis Taylor & Jon Rose "Post Impressions: a travel book for tragic intellectuals" (paperback book + DVD) - This book takes the form of a travel journal of several journies into the Australian outback to play wire fences that can be thousands of miles long. Hollis and Taylor take turns to record their impressions of not only the fences and their sonic qualities, but also the vast landscapes, the people and the wildlife they encounter. Comes with a DVD documenting many of the people and fences they encounter.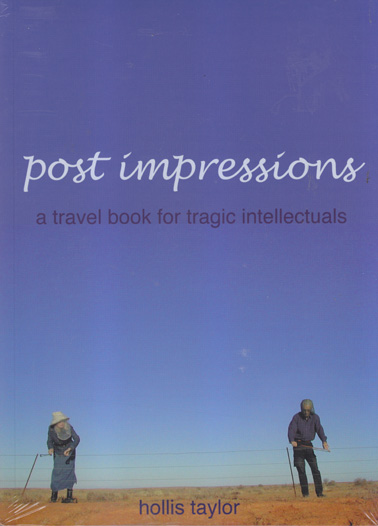 Alvin Curran and Jon Rose "Café Grand Abyss" CD – Long-time collaborators Curran (piano and sampler) and Rose (violins conventional and otherwise) combine over two improvised sessions presented here. "There are nods to minimalism, noise, jazz, but a description of this musical encounter might be best described as maximalist. Just when you think the parameters have been sorted, there is a twist, and we are off on another journey – the extravert and joyous followed suddenly by the dark and strange".